Mina, NV trail guidebook now available at Sunrise Valley RV Park.
By Tom Willis. Also available on EBAY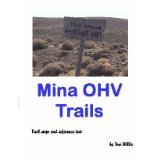 SECOND EDITION

Within the 121 pages of the book, the reader will find detailed maps, distances, waypoints, and GPS data for 18 trails totaling 875 miles.
The book is wire bound so it can be used in the field without damaging the binding like most other trail guides. Due to cost considerations all the maps and photos are presented in black and white on heavy weight paper.
Each trail is presented in its own "chapter" in the book, with some history, photos, a waypoint list, and detailed topographic maps .
| | | | | |
| --- | --- | --- | --- | --- |
| WP | Odo | Dist | Coordinates | Notes |
| *** | | | | Use South exit from RV Park - Cross Highway 95 |
| 1 | 0.6 mi | 0.6 | N38º 22' 57" - W118º 06' 55" | Junction - Turn Left - South through Sodaville |
| 2 | 3.1 mi | 3.7 | N38º 20' 17" - W118º 06' 23" | Junction - Turn Right - Southwest |
| 3 | 1.9 mi | 5.6 | N38º 19' 40" - W118º 08' 10" | Junction - Take Right fork - Northwest |
| 4 | 2.6 mi | 8.2 | N38º 20' 03" - W118º 10' 43" | Junction- Continue West |
| 5 | 1.9 mi | 10.1 | N38º 20' 53" - W118º 11' 45" | Junction to Maryann Mine – Turn Left - West |
| --- | 0.4 mi | --- | N38º 20' 53" - W118º 11' 05" | At Maryann Mine |
| 6 | 0.2 mi | 10.3 | N38º 20' 46" - W118º 11'50" | Junction - Douglas Canyon - Turn Right - North |
| --- | 0.5 mi | --- | N38º 20' 35" - W118º 11' 48" | At American Flag Mine |
| 7 | 1.8 mi | 12.3 | N38º 22' 03" - W118º 10' 31" | Junction – Douglas Canyon Road – Turn Right - East |
| 8 | 1.7 mi | 14.0 | N38º 21' 57" - W118º 08' 41" | Junction – Left Fork - Northeast |
| 9 | 1.5 mi | 15.5 | N38º 22' 46" - W118º 07' 25" | Junction – Continue Northeast |
| 10 | 0.3 mi | 15.8 | N38º 22' 56" - W118º 07' 09" | Junction – Turn Right - East |
| --- | 0.8 | 16.6 | N38º 23' 03" - W118º 06' 21" | Back at RV Park |